Nederlands

De informatie op deze pagina is in het Engels, omdat deze opleiding niet in het Nederlands wordt aangeboden!
Art of Colors is a highly respected makeup artist school in Amsterdam that has been offering international makeup artist courses for many years. After high demand, we are now offering our online makeup artist program, that allows you to follow the course at any time from anywhere in the world.

Learn more about the program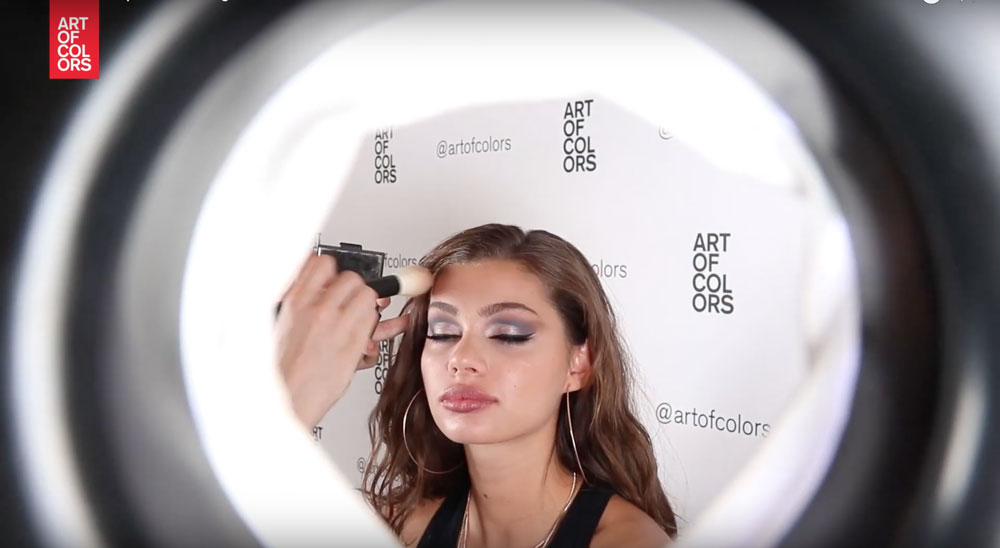 How it works, learn by doing
The Makeup Artist Program is online. Which means you can log on to your computer, iPad or telephone. Within the course you will find different makeup classes and topics, such as skin, eyeliner, shape & highlight and much more, and you will have the opportunity to receive coaching and feedback from our expert educators. It's something you will never see or get on Youtube. To be the best makeup artist you have to work and learn from the best.
Every lesson on the program is followed by a task. This way you can put everything you have learned into practice, and really understand the techniques. It's there for you to complete it and learn by actually doing it. After finishing each task you receive personal feedback tips and tricks, and guidance on your work.
It's more than just an online course, you can conclude the program with an intensive training week and exam for the international CPD accredited Makeup Artist diploma at our beautiful location in the center of Amsterdam.
WHAT YOU LEARN?

We have developed a total program where you can choose your learning path exactly as you wish. It's a complete course. You can choose to participate in the Basic training or directly the pro training. If you follow the course successfully you can participate in our final training in Amsterdam to conclude the course with an international CPD accredited Makeup Artist diploma.
Basic training
Everything starts with the basics. Learn to recognize skin types, build your professional makeup kit, hygiene and beautiful, natural makeup. You will receive advice, feedback and assignments and we will inspire you with countless examples of how things should and should not be done. You will learn all the essential first steps and techniques as a professional makeup artist.
After completing the Basic training you are ready for the Pro training to take your skills to a higher level.
Pro training
In the Pro training, we will take your makeup skills to the next level. The looks become more technical. We dive deep into lots of new techniques to develop your views as a makeup artist. For example, you learn different face and eye shapes and which shape & highlight technique to use. View the program for all techniques.
After completing the Pro training you will receive a Certificate of participation and you will have your admission ticket for the Final training in Amsterdam.
Pro & Final training
For anyone who wants to gain the internationally accredited CPD makeup artist diploma. Everything you need to make it in the world of make-up is discussed. During the Final training in Amsterdam you complete the course with an intensive training with new looks & techniques, you have a professional photo shoot, you will have theory and practical exams.
After completing the Pro & Final training with a good result, you will have your international CPD accredited makeup artist diploma in your pocket and you can start working worldwide.
Your educator
Jimmy Stam!
"I want students to feel my passion and enthusiasm for this beautiful profession. I love to teach them new things and seeing my students grow is the most rewarding feeling ever. My lessons are always very up to date and I can't wait to share my techniques, taste, vision and tips & trics with students all around the globe."
Jimmy is an inspiring teacher and make-up artist with a load of experience with fashion shoots, TV-shows and magazines. He knows his way in techniques, signature styles and the latest trends. See for a complete bio this link
Choose your makeup artist training
| | | | |
| --- | --- | --- | --- |
| | Basic training | Pro training (diploma) | Pro + Final training (diploma) |
| | Basic training | Pro training (diploma) | Pro + Final training (diploma) |
| | | | Only after successful completion of the Pro course |
| Kit & Hygiene | | | |
| Prep of your model | | | |
| Skin & Brows | | | |
| Natural make-up | | | |
| Deeper skin tone make-up | | | |
| Classic Eye make-up | | | |
| Contour & Highlight | | | |
| Red lips | | | |
| Eyeliner & lashes | | | |
| Smokey eye make-up | | | |
| Bronzed beauty | | | |
| Asian Beauty | | | |
| Certificate Pro makeup training | | | |
| Art of Colors Basics make-up set | | | |
| Recap Pro Techniques | | | |
| Liners, Lashes & Lips | | | |
| Glamour make-up | | | |
| Cut Crease | | | |
| Colorful look | | | |
| Working with pigments & glitters | | | |
| Photoshoot | | | |
| Theoretical examination | | | |
| Practical examination | | | |
| Diploma makeup artistry | | | |
| Upgrade | To pro € 399,- | To final € 1.299,- | |
Basic training
Pro training (diploma)
Pro + Final training (diploma)
Basic training
Pro training (diploma)
Pro + Final training (diploma)
Only possible after successfull completion of the Pro training (diploma)
Kit & Hygiene
Prep of your model
Skin & Brows
Natural make-up
Deeper skin tone make-up
Classic Eye make-up
Contour & Highlight
Red lips
Eyeliner & lashes
Smokey eye make-up
Bronzed beauty
Asian Beauty
Certificate Pro makeup training
Art of Colors Basics make-up set
Recap Pro Techniques
Liners, Lashes & Lips
Glamour make-up
Cut Crease
Colorful look
Working with pigments & glitters
Photoshoot
Theoretical examination
Practical examination
Diploma makeup artistry
Upgrade
to pro
€ 399,-
Upgrade
to final
€ 1.299,-